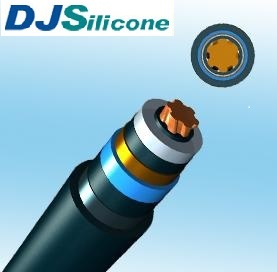 This product is a new type material of fire-resistant flame retardant silicone rubber. After vulcanizated, it keeps high elasticity of rubber at room temperature, and under the high temperature it forms hard ceramic layer. The ceramic layer has a certain strength and be capable of impact resistance. It keeps parts well running when fire breaks out. It is particularly applicable to fire resistant cables and refractory sealing strips.
Category
Product model
Appearance
Hardness
Shore A
Tensile strength Mpa ≥
Elongation at break
% ≥
Tear strength B
kN/m ≥
Specific density
25℃ g/cm3
Volume resistivity
Ω.cm ≥
Dielectric constant
Flame retardance
Ceramic rubber
NE-C50
white
55±3
5.5
350
15
1.35±0.05
1.0x1015
20
FV-0
NE-C60
63±3
6.5
300
15
1.40±0.05
1.0x1015
20
FV-0
NE-C70
70±3
6.0
300
15

1.42±0.05
1.0x1015
20
FV-0
Addition of curing agent: liquid 2,5-Dimethyl-2,5-di(tert-butylperoxy)hexane, ceramic rubber 1.0%.Test piece vulcanization condition: 175℃×5min.
Related material download:
RoHS and Other Restricted Substances Test for Flame Retardant Rubber
Substances of Very High Concern Test(SVHC)for Flame Retardant Rubber
Ceramic Silicone Rubber(TDS)